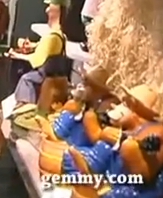 If you watch both videos of the Gemmy industries 2000 fair on YouTube, you can see lots of unidentified items by Gemmy. Other unknown items can be added as well.
This is not a dueling banjos item. This is a guy playing a banjo, and a bear one, too. It is unknown what they do so far
Beach bear
Edit
This item was seen next to the desert dancers. It looks like the bear is wearing the green singing gorilla shirt.
Unknown Hip Swinging Snoopy
Edit
You can see another version of hip swinging snoopy. He is predicted to be a superhero from one's point of view at the image. There is no identifcation of this item so far.
Christmas bear
Edit
It wears a red sweater and santa hat and holds a Christmas tree. It sings "I saw mommy kissing Santa Claus".
Animated deluxe Santa
Edit
This Santa moves his arm and head (Exactly like the animated scarecrow) and plays Christmas songs. The base is also the same as the scarecrow and other items from the 90's.