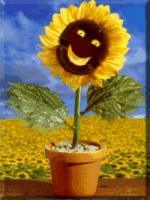 Sunny is an animated singing sunflower made in 1997 and is part of the "Hidden Nature" series. She moves her leaves back and forth and moves her mouth and eyes while singing "You are my sunshine". She is one of the animatronics noted to "come to life", like
Big Mouth Billy Bass
. Sunny would activate through sound or motion it detected.
Product Description
Edit
"Bring a smile to your face and brighten up your day with Hidden Nature's Singing Sunflower! Discover flower power as this amazing sunflower serenades you with the song 'You Are My Sunshine'! The movement of the mouth and eyes are coordinated with the song, so that it looks like the flower is singing to you! The eyes light up as well!" - Gemmy Industries Corp.
This animatronic made a cameo in the Baby Einstein video "Baby Bach" with Cornelius the Chicken
All versions of Sunny used eyes that appeared on a Douglas Fir(most commonly using the oval shaped eyes with the white dot on the bottom), some early versions used the eyes that were round with a white dot in the middle of the black pupil
A small detail that's very easy to miss if your looking at Sunny through a video or photo is that she actually has black eyelashes at the end of her eyelids
Due to the dimensions of the box(which is quite skinny) Sunny's stem can be posed down to make it look better from taking her out of the box
A prototype version of Sunny appears on the retail box which has smaller eyes and a wider skinnier mouth
She has an identical twin named: Willis the Singing Wildflower who sings "Wild thing!"

She also has another twin who is not so identical called The Singing Flower who sings "I can see clearly now!"
She has a cousin named Donnie the Daisy who is similar to Sunny, But has a white face and no moving eyes. This model also sings "I can see clearly now!".

Sunny can be powered by 3 C size batteries or by a 4.5 volt AC/DC adapter
Some versions of Sunny came with yellow sunglasses that were secured onto the head with an elastic band attached to the sunglasses

The versions that came with these sunglasses strangely never said anything about them being included anywhere on the box

Sunny's leaves are attached with a flexible metal wire that can be bent and shaped to a desired position.
In "My Little Pony: Friendship Is Magic" season 5 episode 13 "Do Princesses Dream of Magic Sheep", in Rainbow Dash's dream, there is a group of singing sunflowers that are singing a parody of the song "This old man". It is possible that said sunflowers could be a reference to Sunny, as seen here.
This item's soundtrack has been used in other items by Gemmy's competitors, such as the sunshine duck by PBC International.
Community content is available under
CC-BY-SA
unless otherwise noted.