The Shaking Spirits are a series of animated Halloween decorations made in 2006-2011. Each spirit shakes while its eyes glow and spooky noises/phrases play. Some of these look identical to the 1993 shaking Grim Reaper.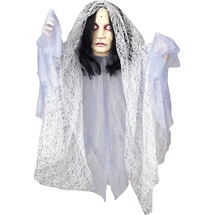 List of Shaking Spirits characters
Edit
Ghost in Chains
Skeleton Reaper in Chains
Donna the Dead bride in black
Donna the Dead with the Witch's audio
Witch (3 phrased version)
Witch (6 phrased version (same phrases as the Witch Spirit Ball)
Black Reaper (Identical to 1993 Shaking Reaper)
White reaper (Nearly Identical to 1993 Reaper, but with white cloth)
Witch (later Target and Walmart version)
Possible Prototypes/Variants
Edit
There is a prototype Donna the dead bride with the later witch's phrases.
There is also supposedly a chained reaper with green eyes and the same phrase but in a deeper voice.
There is an unreleased variant of the White 1993 style reaper with blue LED eyes.
Another recently confirmed prototype is a Zombie version, appearing like the prototype floating ghoul red zombie skull.
A prototype mummy version with slight appearance differences including different hands has also recently been discovered.
There is another version of the chained Ghost that has phrases.
A prototype ghost version exists with a unique head sculpt and the evil laughter stock audio.
A ghastly gentleman themed version exists, however it is unknown if this is a prototype at this time.
There is a unknown version of Donna the dead with painted nails, however its unknown if its a custom or a prototype
The Black and White Reapers are nearly identical to the Shaking Grim Reaper originally released in 1993. The black reaper is a complete copy in terms of appearance, and besides checking the battery cases, the only way to set the original and the shaking spirits version apart is by the audio: the 1993 version says 'Happy Halloween', while the Shaking Spirit version ghostly moans.
Moreover, it is presumed that the Shaking Spirits were (at least in part) inspired by the 1993 reaper, meaning that the original reaper can be considered a predecessor to the series.
The chained Reaper and chained Ghost versions are commonly mixed up, often by mistake or sheer misinformation: the reaper has an exclusive head sculpt with black eyes, square teeth, a large nose, and black lines over the mouth, while the ghost utilizes a fanged skull with red eyes, a tongue, smaller nose, and spots over the mouth. Despite this, they share the same general appearance and audio.
The later 2010 witch is unique among the shaking spirits as it has only half a head, with the back being completely flat.
The Witch has the same face as the Floating Witch, Hang Ups Witch, and the Hallo-Wings Witch.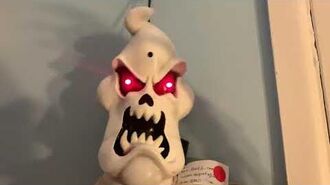 Community content is available under
CC-BY-SA
unless otherwise noted.