Scary Skull was an animated Halloween decoration made in 2007-2010. When activated, his eyes light up and moves side to side while his jaw opens and closes as he laughs and talks. He is sound/motion activated.
Variants
Edit
Original w/ moving eyes
Original w/ non moving eyes
Original w/ different appearance and non moving eyes
LED eyes (red or blue)
Crystal
Grey (Somebody's Watching Me)
Pirate
Clown (Possible Prototype)
Phrases (Original)
Edit
[Laughing]
[Moaning] [Laughing]
"I see you..."
Phrases (Blue & Red LEDs)
Edit
"There's something spooky out tonight, and I think it's you." [Laughing]
"Have you come for a treat? Or for a trick?" [Laughing]
"Ah, yet another creature of the night approaches!" [Laughing]
[Laughing] "Oh, Sorry, Halloween just brings out the ghoul in me."
"Welcome to my home my little victim- er, oh, I mean, heh, my little friends." [Laughing]
Phrases (Red LEDs #2/Crystal)
Edit
[Moaning] "....Get out....Help me...." [Moaning] [Yelling]
Phrases (Pirate)
Edit
Never, ever trust a pirate, less ye want to end up like me. [Laughing]
Ah, welcome, I've got a nice place all set up for ya, in Davy Jones's Locker! [Laughing]
Hugh, something wicked is about to happen, I can feel it in me bones. [Laughing]
Avast for a moment me harties, and have yourselves a happy Halloween. [Laughing]
Yarrr, so you've come for me treasure, have ye? Stay away from me treasure, skallywags! [Laughing]
Phrases (Grey)
Edit
[Sings "Somebody's Watching Me"].
The mold for the Scary Skull has been used for other Gemmy props, such as the "Crystal Skull", "Dropping Heads", "Interactive Skulls", etc.
The 2008-2011 remake doesn't move his eyes, unlike his predecessors.
The Red LED variant has the same audio as the Crystal Skull.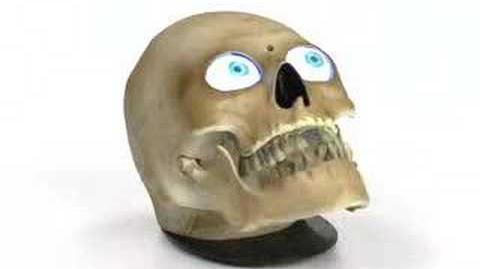 Community content is available under
CC-BY-SA
unless otherwise noted.