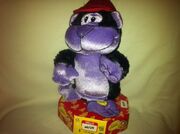 Mushi is a Movin Monkey made in 2007. He sings I like the way and has a red hat.
Rareness level
Edit
On a scale of 1 to 10 I'd give Mushi a 6 in rarity.
Mushi was made in 2006, but there is a sticker on the bottom of his box that says made in 2007. So its possible that Mushi was actually made in 2007, but they accidentally put 2006 under the box.
His name is inspired by Mushi, the name of one of Merari's sons from bibliology.