The lifesize Freddy Krueger was made in 2005. He is wearing his signature red and green sweater, brown pants, hat and finger knives from the movie. When activated by motion or button, he turns his head and moves his eyes and mouth as he says different phrases.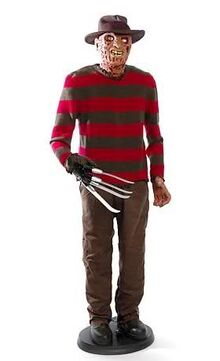 Phrases
"You're mine now piggy ! (laughs) "
" Trick or Treat ! (laughs)"
" Come here little piggy, Freddy's got a treat for ya !"
"This Halloween will be the stuff that nightmares are made of ! (laughs)"
"Come trick or treat at my house, it's over on Elm Street. I'll leave the light on for ya (laughs)"
" Halloween's my favorite time of year"
" I'm gonna split you in two !"
" Ever play skin the cat ? (laughs)"
"Come to Freddy !"
" Welcome to my nightmare !"
"Tell em Freddy sent ya"
"Aw whats wrong ? Did someone have a nightmare ?!"
Where this item was sold
It was sold only at Spencer's, Spirit Halloween, and Kmart (online exclusive).
Trivia
Robert Englund (who played Freddy in the Elm Street films) recorded custom dialogue for this prop for Gemmy.
Some versions have reverse eye movement.
Freddy's sold in 2006 had purple try-me buttons on the base. 2005 versions didn't.
The animatronic was advertised in an official flash game by Kmart called "Haunted House" where the animatronic was the final boss, throwing bones at the player as an attack. To beat him, the player simply had to unplug him. After beating him, a box would appear, with an attached link to the animatronic's page on Kmart's website for purchase. The box showed the alternate stock photo of Freddy with his arm raised as depicted on the item's box. The box read: "New Line Cinema's house of horror 'A Nightmare on Elm street' 6ft tall Freddy Krueger. His eyes, mouth and head move with life-like animation!". The exact release date of the game is unknown, but on Y8.com, it was posted on December 29th 2006.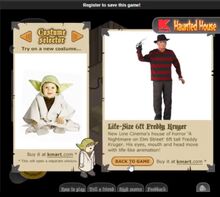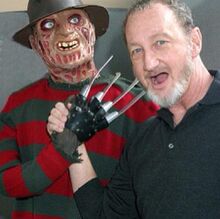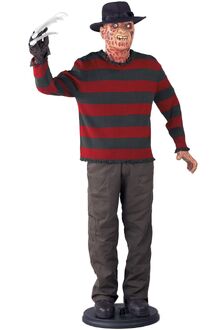 Community content is available under
CC-BY-SA
unless otherwise noted.