The Hanging Pumpkin Ghoul is an animated Halloween decoration made in 2017-2018. When activated, the face of the pumpkin appears as he says phrases and his mouth moves. The pumpkin ghoul was sold exclusively at Target for 2017, but returned in 2018, sold at At Home. however he was made by Sunstar and he has different phrases and clothes. The original target version was sold in 2018 as well, and brought back in 2019.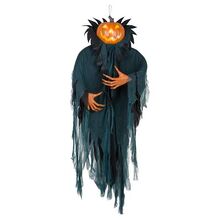 "(Moaning) Boo! (Laughs)"
"(Moaning) Trick or Treat? (Laughs)"
"(Laughter)"
"(Moaning) I see you! (Laughs)"
"Happy Halloween!"
"(Moaning) Candy? (Laughs)"
Sunstar Industries, the sister company of Gemmy Industries, made another version of this item with different clothes and hands that speaks phrases from the older Tornado Globes and the Spirits of Fire. This version also had a different face, with glittery specks appearing every time the face lit up.
Community content is available under
CC-BY-SA
unless otherwise noted.