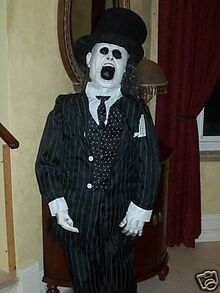 The Ghastly Groom is an animated Halloween life size made in 2008. He is dressed in a black pinstripe suit with a top hat. When activated his body will rotate as his head shakes and he says phrases.
"My bride to be is quite precious. I've loved her ever since the day I died! (Laughs)"
"Welcome to our wedding party. We've been DYING for you to arrive! (Laughs)"
"I'm so lucky to marry her. All my groomsmen are DEATHLY PALE with envy! (Laughs)"
"You look like you've seen a ghost. Ah, then you must have met my bride! (Laughs)"
"Yet another wedding guest comes to hang around. Well very soon we will be tying the knot! (Laughs)"
He was meant to go with the Beheaded Bride
He was only sold at Michael's
Community content is available under
CC-BY-SA
unless otherwise noted.