Fright Lights was a Halloween prop made in 2007. When activated, the candle(s) would light up and they would speak one of several phrases. They are sound/motion activated.
Variations
Edit
There were two variations of the Fright Lights:
Grim Reaper: The one pictured in the infobox. It featured a skull with red light up eyes and a black hood holding a sickle with a candle on top.
Skull: It was a skull with one candle at each side.
Phrases (Grim Reaper)
Edit
"Ah, it is you. I wondered if you would find the courage to face me. Worry not, we shall meet again, sooner than you think! (laughs)"
"Do not fear your demise. When your time comes, you will be greeted by a familiar face (chuckles) Mine! (laughs)"
"(laughs) I believe your fate is NOT one you would wish to know beforehand. In this case, no news IS good news. (laughs)"
Phrases (Skull)
Edit
[Laughing]
"Booooo" [Laughing]
[Laughing]
"I see you..."
[Laughing]
The Skull variant shares the same audio as the "Scary Skull" and "Fire and Ice Tombstone".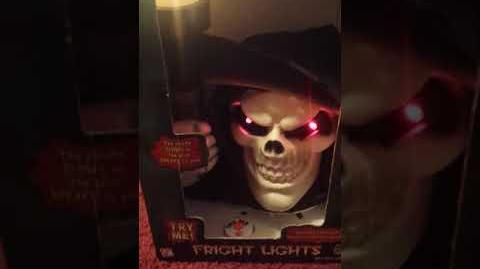 Community content is available under
CC-BY-SA
unless otherwise noted.