The Freaky Geeks are a series of animated dancing Halloween characters produced for the 2004 and 2005 Halloween seasons. Each one is dressed in a similar purple-themed style and dances to a classic pop song. Freaky Geeks move their heads and dance, while the mouth moves and eyes illuminate. Both the Skeleton and Witch swing their hips and turn their heads, while the Monster leans his body and pivots his head.
There are also variants of both the Skeleton and Monster that are dressed differently. Freaky Geeks retailed anywhere between $14.88 and $39.99 depending on the store. The most notable places Freaky Geeks were sold include: CVS, Menards, Walmart, Kmart, Kroger and ASDA (United Kingdom). There were six unique packaging styles that Freaky Geeks were sold in depending on the retailer: 2004 Gemmy packaging, 2005 Gemmy packaging, Pumpkin Hollow packaging (Menards), Walmart packaging, Totally Ghoul packaging (Kmart), and ASDA packaging.
Prototypes
Edit
Three Freaky Geek prototypes are known to still exist. All three of which are Monsters. There are two production sample Monsters that are nearly identical to each other and one other Prototype "Deluxe" Monster that has much more noticeable differences. The main differences are it's increased height and large silver base. In addition, pictures of very early prototypes of the Monster, Witch, Variant Skeleton and Variant Monster have been recovered. The fate of these prototypes is unknown.
FUN FACTS (Trivia):
Edit
The 2005 Skeleton has no demo mode and the lower teeth are a hard plastic instead of rubber like the 2004 version.
There was a picture of a pre-production Witch on the official Gemmy website in 2004, but it underwent massive changes before it made it to production.
The Monster was sold in Canada, there is a picture of a Demo sticker that includes a French translation. This also means that there is another box with French translations that has yet to be photographed.
There is a series of three foot hanging characters that share the Freaky Geek's heads, except the mouth is molded solid.
The Scary-Oke Pirate Skeleton uses the same head mold as the Freaky Geeks Skeleton
The 5 Foot Dancing Monster shares a likeness with the Freaky Geeks Monster
List Of Freaky Geeks
Edit
 
Character
Song
Retailer
Monster
"Thriller"
CVS, Walmart, Menards, Kroger,

ASDA (UK)

Skeleton
"Play That Funky Music"
CVS, Menards, Kroger
Witch
"Evil Ways"
Walmart, Menards, Kroger
Skeleton
"Super Freak"
Walmart
Variant Monster
"Thriller"
Kmart
Variant Skeleton
"Play That Funky Music"
Kmart
Gallery and Videos
Edit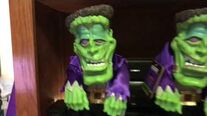 Community content is available under
CC-BY-SA
unless otherwise noted.