The Eyeball Candy Bowl is an animated Halloween decoration made in 2017 and in 2019. It features a white candy bowl, and a classic looking pedestal with a round circle in the center. When activated, the bowl lights up and changes colours as the circle opens to reveal an eyeball which lights up and moves as it speaks. The difference between the original 2017 version and the 2019 version is the fact that the 2019 version has a spider on the side of the bowl and the 2017 version does not.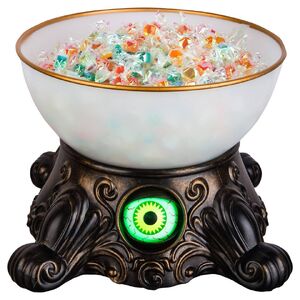 "Hmmm. I'm keeping an eye on you"
"Ooh! I see what you did there! (Laughs)"
"I'm watching you! (Laughs)"
"Ooh! It's you! I've been waiting"
"Come for the candy eh?"
"I see what you're doing (Laughs)"
Where this item is sold
Edit
This item is currently being sold at Target Superstores.
Community content is available under
CC-BY-SA
unless otherwise noted.