The Dead Head Skeleton Butler is an animated Halloween life size made in 2010. He is dressed in a black suit and top hat with a red vest and purple accents. He also holds a candy tray and a lantern. When activated, he moves his head, mouth and arm with the lantern as his eyes and the lantern light up while he says phrases.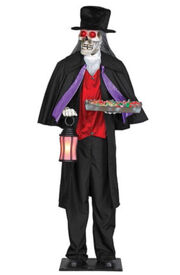 "(coughs) Pardon me. What? You don't think I can catch the flu? (laughs)"
"Not so easy talking to strangers, but I can make an exception...in your case! (laughs)"
"Right here. Come a bit closer. I don't bite.. (giggles).. that much! (laughs)"
"Yes the graveyard is just over there. Here, take a few treats before you go! (laughs)"
"Evening. Good of you to come during these frightful times! (laughs)"
Where this item was sold
Edit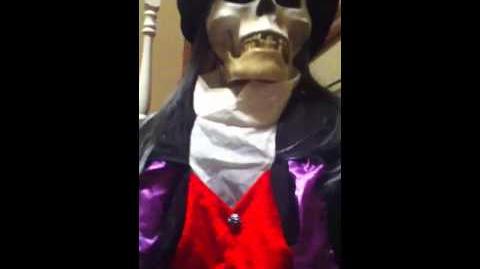 Community content is available under
CC-BY-SA
unless otherwise noted.