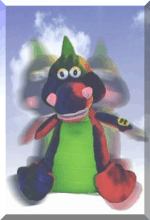 The Dancing Dragon (a.k.a Hot Hot Hot Dino) is a singing plush toy dinosaur/dragon made in 1998. He has a colorful tie-dye body with a yellow-green horn and stomach. He moves his head and mouth as his nostrils light up to the song "Hot Hot Hot".
This item has the same recording has Harry D. Ape, explaining the monkey sounds punctuated into the song.
The official name of the product is "Dancing Dragon", but it looks more like a dinosaur, so many people call it the "Hot Hot Hot Dino".
The box also reads "Cheers and dances to the musical composition of "Hot Hot Hot", but it does not actually cheer to the song, making those words a misprint.
It could be purchased in Walmart, CVS Pharmacy, and WOW Outlets for about $12.99 - $26.00 usd.
Community content is available under
CC-BY-SA
unless otherwise noted.