The Cursed Coffin is an animated Halloween prop made from 2005 to 2007, sold at stores such as Walgreens, Walmart, And target. It is a tall coffin and, when activated, a small character head pops out from inside the coffin and screams or talks. A zombie head or a skull will pop out depending on the version. A doorbell version was sold too, but it only had the Skull.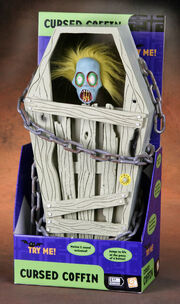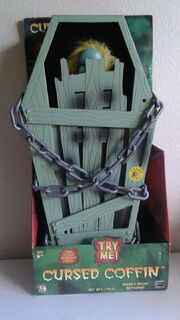 Black (with Skull with hair)
Doorbell Version Black (Skull with hair)
Brown (with Hooded Skull) (UK exclusive)
Zombie (2005-2007)
Edit
The zombie has bright yellow frizzy hair, bluish green skin, big bloodshot slightly green eyes with small red LED pupils, inside his wide opened mouth are seven small round teeth with green strings of spit connecting them.
Skull with Hair (2007-2007)
Edit
The Skull is a light tan bone color and has long black hair that parts at the middle of its head, unlike the Doorbell Skull's that stands upwards. Bright red LED eyes light up its hallow eye sockets.
Hooded Skull (200?-200?)
Edit
The Hooded Skull wears a small black hood over its pale white face. It has large angry hallow eyes that light a bright red.
Doorbell Skull (200?-

2008)Edit
The Doorbell Skull is a small white skull that has large, frizzy black hair that stands upwards, instead of being parted to the side like the Skull with Hair.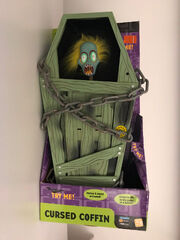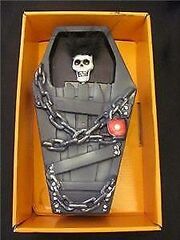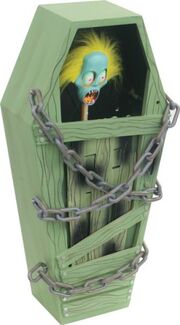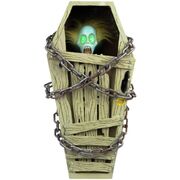 Videos and Photos
Edit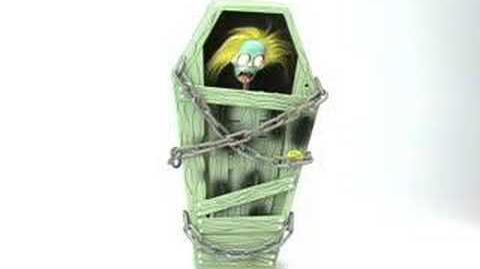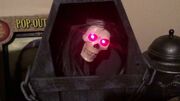 Community content is available under
CC-BY-SA
unless otherwise noted.