Note: These are not Gemmys, but they are fake versions of Gemmys which is why they are here.
Kung fu Hamster- Kung Fu Fighting, available in several different styles
New Year-A Chinese New Year song
Military-Sister Sister (The Warfare Puppetry song)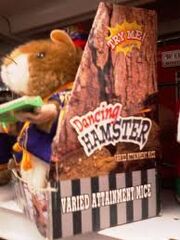 Fly Guy (fake)- Hooked on a Feeling
Varied Attainment Mice-The Alphabet Song
Sarge (fake)- Instead of singing "Bad Boys," he sings "Jailhouse Rock" like Jailhouse Rick.
Beach bum (fake)-good vibrations
Luigi (fake)-The Pizza Guy
Hombre (fake)- La Cucaracha
ErhuPlayer Hamster- Butterfly Lovers
Birthday Angel, Dan, and Boy-These PVC fakes all sing "Happy Birthday."
Violinist- Boom, Boom, Boom, Boom