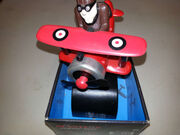 The Blasters is a gemmy series. The series was discontinued in 2007.
List (So Far)
Edit
Blaster Pilots
Yellow American (RARE) Rowdyruffboy120 Has!
Red Baron (common)
Office Commando (common)
Blue Version Unknown Name? (RARE) DJSummertime Has!
It is unknown if there are more in the series besides the office and Plane one.