The life size Beheaded Bride was made in 2008-2009. There are 3 different versions: Wedding With Short Dress, Wedding With Long Dress, and Gothic. The wedding versions wear a white wedding dress with short brown hair. The Gothic version wears a black and red dress with long brown hair. When activated, she moves side to side as her eyes blink and light up, and she moves her mouth.
Instead of having a try-me button on her base, there is a try me button on her left arm.
The motion sensor is in the neck instead of the base.
The gothic version has detailing on the neck stump, while the wedding version does not.
She has about 4 unreleased phrases. These phrases were included on the Gemmy Bride and Groom Cloche.
There was a Halloween Hang-up version of this lifesize, with the same phrases.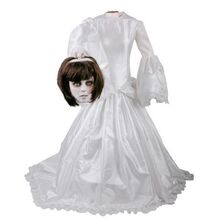 "Hello. Have you come for my wedding ? I can't..I can't find my bouquet. Where am I ?"
"There you are. I'm ready when you are. This has been the happiest day of my..of my (Cries)"
"Does my hair look nice ? I just want everything to be..perfect..even though (Cries)"
Unreleased phrases
Edit
"Is my gown on straight? It's so beautiful. Mother will be so proud of me. I'm so.. happy."
"He must be here somewhere. He must be here. Where is he? Its our special day. I... have to find him.
"I know you! You're the one! You're the one who... no! No,no,no! *sobbing*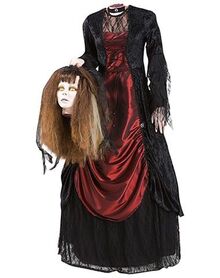 Community content is available under
CC-BY-SA
unless otherwise noted.