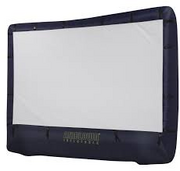 Airblown Inflatables are inflatable holiday indoor and outdoor decorations for all occasions. They sizes range from 2 feet to about 20 feet tall/long. They are one of Gemmy's longest lasting product lines, and are also one of the most popular range of decorations that Gemmy has produced since their introduction in 2000.
Airblown Motor Evolution
Edit
Metal base with attachable legs: 2002
Metal base with fold down legs: 2002-2003
Plastic black base with fold down legs: 2004-2012
4ft round inflator with no lights: 2004-2008
3ft-5ft round inflator with light: 2007-present day
plastic gray base with fold down legs: 2013-present day
plastic outside base with non-foldable legs in big Airblowns: 2004-present day
plastic gray base with fold down legs and cover on animated Airblowns: 2012
Setup Instructions
Edit
If your Airblown Inflatable has a metal/plastic base at the bottom, follow this procedure(works on airblown movie screen too, it just uses 2 inflators)
1. Unfold the legs on the base, make sure the zipper is zipped up(certain ones have pre-unfolded bases that cannot be folded)
2.Plug in the cord of the Airblown Inflatable to a standard outlet and allow to inflate
3.Clip the tethers to the nylon loops/ring grommets(nylon loops, 2007 and later.) (Ring grommets, 2002 to 2006) and insert the base stakes in the hole of the legs
If it has a round inflator, follow this procedure
1. Open the small white box included with the Airblown, and take out the plug inside
2. Place the small connectors on the inflator in the jack on the plug
3. Zip up the zipper on the airblown, then plug the adapter into a standard outlet
4.Clip the tethers to the nylon loops on the side of the Airblown, instead of putting the base stakes in a base, put them on the nylon loops at the bottom of the Airblown.
Some Airblowns have different features, such as lights, animations, music, projections, and different materials for unique and realistic looks. In 2013, airblowns with lighted, animated faces that talk and sing were introduced, and in 2015, airblowns with photo-realistic printings were released.
Many airblowns are based on media sources from a wide range of different licenses, such as Disney, Warner bros, Nickelodeon, and Hasbro, as well as NCAA mascots.
Some Airblowns are sold in Combo Packs, with two Airblowns in one box.
Though the first Airblown was released in 2001, the idea was actually conceived in August 2000.
Source for the above: http://caselaw.findlaw.com/us-federal-circuit/1140681.html
Gemmy does not sell replacement fans, you will have to go to www.yardinflatables.com to find them.
Community content is available under
CC-BY-SA
unless otherwise noted.